Background - The Models - Livery - Padbus Today - Making Windscreens
Padbus was created about in about 1980 to combine my interest in model making with my interest in bus timetables. It is, therefore, a totally fictional operation set in a real location. This is the reverse of the practice adopted by many railway modellers who tend to model real railway companies running in fictional locations.
Padbus is set in Witney, in West Oxfordshire. In the days before bus deregulation each of the big bus companies had their own areas of operation and Witney lies close to the point where the Oxford, Bristol and Midland Red companies met. These companies tended not to operate outside their own areas and the route network reflected this with some quite noticeable gaps in cover which were often filled by small local operators. The Padbus route network is my idea of how services could have evolved had the constraints of area agreements and road service licensing not existed.
When I started I set myself some basic ground rules. All routes would be timetabled. This would determine how many buses would be needed and sufficient suitable buses would be modelled to run the services. Known obstacles would not be ignored. Thus I have to contend with the notorious low bridge at Oxford station and this has helped determine vehicle policy. All vehicles would be painted in fleet livery and carry fleet numbers, registration numbers and destination displays. The buses are modelled with the destination they would be showing at 10:15am.
Back to Top
The Models
The models come from a variety of sources. Many are repaints of the die cast models that are readily available these days. Others come from white metal or resin kits. These tend to be made by "cottage industry" manufacturers and are rarely found in shops. They often have limited production runs and when they are gone, they are gone. If you are interested in obtaining models from these sources it is recommended that you join the Model Bus Federation. Details of these models are carried in the Federation's monthly magazine and in the members' area of its website.
Sometimes, if I want a model of a particular bus and there is nothing available commercially, I modify a kit or die-cast or even scratch-build it. Some idea of the work involved in scratchbuilding a model can be found in the following pictorial on making the windscreen for the Van Hool Acron coach 198 (OE11CEB).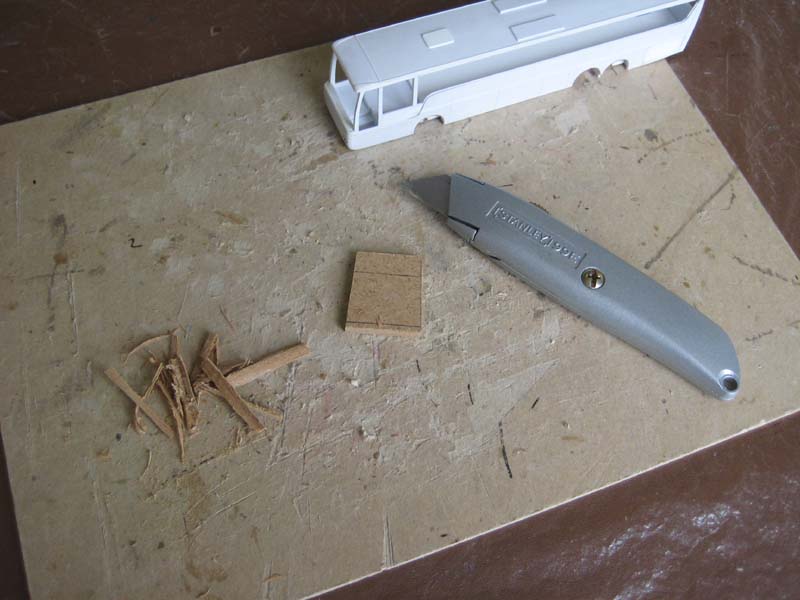 Not all clear plastic will co-operate with being heated. Best to use plastic packaging that has already been preformed.
This is a posed picture. This stage is best done in mid-air so that the windscreen can be pushed through the plywood shaper in necessary.
Livery
Initially, the fleet was brush painted white and lime green, applied in the style used by Selnec PTE in Manchester. However, I found it difficult to achieve a satisfactory standard of finish and decided to move to spray painting. This prompted a move to a simpler livery that would require less masking. The new livery was inspired by that adopted by Midland Fox. The fronts of the buses were sprayed Ford signal yellow using aerosol cans from Halfords. Humbrol lime green was retained for the rear and was applied using an airbrush. However, I found airbrushes fiddly things to use so, to simplify things even more, the green was changed to Ford signal green from Halfords.
All lettering was in black. The fleet and registration numbers were 1mm waterslide transfers applied one at a time. The fleetnames were made from Letraset rubdown transfers applied to clear waterslide transfers. Whilst black was not ideal for fleetnames it was chosen because it was readily available. The typeface chosen was Helvetica Medium, again because it was readily available in small sizes. However, following the introduction of the green and yellow livery, bigger fleetnames in Helvetica Bold were used.
The personal computer with affordable colour printing has revolutionised graphics and I wanted something better and brighter for Padbus. It was simple enough to design something on the PC and print it onto white paper but transferring it to the models was not so easy. The first method tried was a product called Decal It. This enabled me to make red fleetnames. However, it was fiddly to use and the decals were a little thick. The Model Bus Federation then discovered that Colour Copies of Stoke on Trent would laser copy artwork onto waterslide transfer film. This produced much better results and enabled yet another livery change to take place in time for the new millennium.
The green and yellow livery had been chosen to reduce the amount of masking needed when spraying. However, I was still experiencing difficulties getting a clean colour break so decided to follow the modern trend of having one base colour with any relief colours being applied by decals. Limitations of computer printer technology mean that the printout is not very opaque. This is not a problem when printing onto white paper but becomes more obvious when converted to waterslide decals. In practice light colours will not show up on dark backgrounds so the new livery was designed around this. Ford signal yellow was retained for the base colour and a pattern of lines and random splashes of colour was designed. This was applied as a waterslide decal. To maintain a link with the previous livery, the lines and splashes were mostly green with a little red. A new green and red fleetname was introduced. The Park and Ride fleet was given a similar livery with blue replacing the green.
Graphics technology moves on and it is now possible to print straight onto special waterslide decal paper from an inkjet printer. However, great care has to be taken to waterproof the decals with suitable clear spray before soaking in water. This results in a thicker decal than that produced by laser copying but the print quality is higher.
A new, more restrained livery was launched on 1st October 2005. The standard Padbus fleet is now pale metallic green with a dark green band. The Park & Ride fleet is similar but with a dark blue band.
The Oxford-London service was re-launched in 2007 as OxfordMetroShuttle. The coaches carry prominent MetroShuttle branding in red on the standard pale metallic green livery. The service was relaunched again in 9999 as "The X10" with bold white lettering replacing the previous red branding.
The open top fleet is pale ivory covered with large pictures of the dreaming spires of Oxford.
It is not Padbus practice to repaint models once they have been constructed but natural fleet replacement means that most of the fleet is now in the same livery.
Back to Top
Padbus Today
Padbus has evolved into a small regional operator that has prospered under deregulation. It runs a mixture of services. The backbone of the operation is the trunk service between Oxford, Witney and Carterton. Longer distance routes extending beyond Carterton to Cheltenham, Bath and Swindon provide part of this service. In the other direction, there is the frequent X10 service to London and an hourly service to Luton and Stansted Airports. Other high frequency routes include the three Oxford Park & Ride services. The remaining services tend to be more rural and serve the villages around Witney and Chipping Norton. Some vehicles are outstationed at the latter. A small fleet of open top buses is kept for the Oxford sightseeing tour.
Padbus is a fleet set very firmly in the present. This means that, like the real thing, the fleet needs constantly updating. For this reason, the fleet is unlikely to expand much beyond its present size of around 120 vehicles, as I do not have time to build enough models in a year to support a larger fleet. Withdrawn vehicles are sometimes offered for sale to fellow members of the Model Bus Federation. However, I am often reluctant to part with them so I am gradually building up a collection of "preserved" vehicles.
A full list of all buses operated can be viewed on this website along with an extensive photo gallery. I hope you will find it of interest.
Paul Dudfield,
Exeter
July 2009
Windscreen Pictorial addded and rest of text lightly updated October 2018